In the Mainstream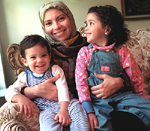 Members of this Charles County, Maryland family are some of the growing number of Muslims moving into more rural parts. (Jed Kirschbaum/ The Baltimore Sun)
Family Life
Islam is considered one of the fastest-growing religions in the United States today. Some points about Muslim life in America that are not widely known:
There are 1,209 mosques in the United States - more than 60 percent founded in the last 20 years.
The typical American mosque is ethnically diverse; nearly 90 percent have some Asian, African-American, and Arab members.
Between 17 and 30 percent of American Muslims are converts.
American Muslims include:
The network of mothers in a Boston suburb who seek to preserve Islamic values by teaching their children at home;
Entrepreneurs in Minneapolis who are financing their businesses without paying the interest prohibited by Islamic doctrine;
Student leaders of Islamic groups at an Ivy League college who meet regularly with leaders of other campus religious organizations;
The Los Angeles developer of the most-trafficked Islamic Web site in the world.
In terms of doctrine and practice, ethnic origins, and ways of adapting to the more general culture of America, it is difficult to overstate the sheer variety of the Muslim experience in the United States. And American Muslims themselves make up only one segment in the complex mosaic of American religious life today.
The United States, of course, is a country of many religions. The first words of the Bill of Rights to the U.S. Constitution say: "Congress shall make no law respecting the establishment of religion, or prohibiting the free exercise thereof."
Beneath this legalistic language is a profound statement of two fundamental American principles:
First, that the state does not establish, or endorse, or favor a particular form of religion;
Second, that all citizens are free to practice the religion they choose.
This tradition of religious freedom runs deep in America. Many of this nation's early settlers were religious communities fleeing persecution in Europe; they were seeking a place where they could practice their own religion far from the state-sanctioned religions of their native countries.
Modern-day Muslims, then, like other religious groups, are one of many bright strands that form the intricate quilt of American religious and civic life. This Web site is an attempt to capture in photographs, words, and statistics something of the extraordinary range and richness of ordinary Muslim life in this country.
---
Related Articles:
Islam in America: The Beginning in Massachusetts
Mosques Expand: Larger centers needed for growing population
Exhibit Traces Long History of Islam in America: Three centuries of American Muslims Documented in Display
Arabs and Non-Arabs Stand United in Dearborn, Michigan
Religion -Exploring Issues, Answers and Beliefs: Reflections on Ramadan
A Religious Experience: Richardson School Follows, Preserves Muslim Tradition